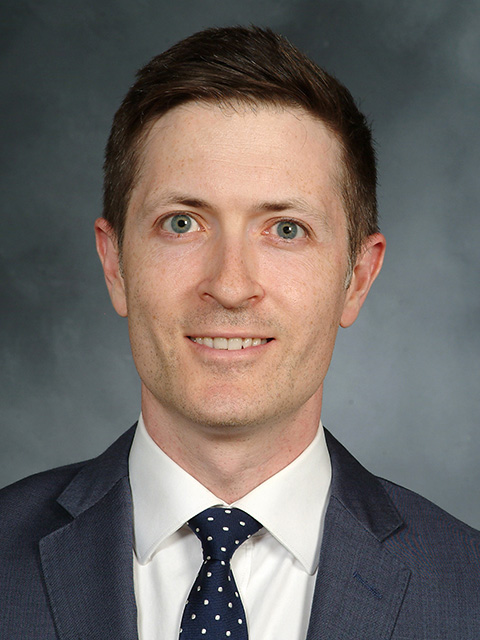 See profile video >
Dr. Vincent F. Miccio, Jr. is an Assistant Professor of Clinical Rehabilitation Medicine at Weill Cornell Medical College as well as an Adjunct Assistant Professor of Clinical Rehabilitation Medicine at the Columbia University Vagelos College of Physicians & Surgeons.. He is board certified in Physical Medicine & Rehabilitation and in Interventional Pain Medicine. He specializes in providing comprehensive, patient-centered care for a wide range of painful conditions of the spine, joints, muscles, and nerves using minimally invasive techniques such as fluoroscopically-guided spine procedures, ultrasound-guided peripheral nerve blocks, and neuromodulation. Dr. Miccio believes that every patient deserves a thorough evaluation, an accurate diagnosis, and a personalized treatment plan. The cornerstone of Dr. Miccio's patient care philosophy is to restore function and quality of life through education and targeted intervention.

Dr. Miccio received his undergraduate degree from Tufts University where he majored in Asian Studies with a special focus in Buddhism and Japanese language. After two years of working in Japan, he returned to the US to study medicine at the University of Massachusetts Medical School. After graduating, he completed an internship in Internal Medicine at St. Luke's-Roosevelt Medical Center (now Mt. Sinai West), followed by a residency training program in Physical Medicine and Rehabilitation at NewYork-Presbyterian-Columbia and Cornell, where he served as chief resident. He then went on to complete a fellowship in Interventional Pain Medicine at NewYork-Presbyterian – Columbia University Irving Medical Center.

He lives in South Slope, Brooklyn with his wife, his son, and his two rescue dogs.
Listen to Dr. Miccio on RadioMD talking about "The Many Approaches to Pain Management"
Dr. Miccio has been honored one of the Super Doctors - New York Rising Stars, which represents the top New York doctors in more than 30 specialties that have been fully licensed for 10 years or less.
Specialties
Back/Spine Pain
Musculoskeletal/Joint Pain
Clinical Expertise
Pain Management
Physical Medicine and Rehabilitation for Cancer
Neoplasm Related Pain
Brachial Plexopathy
Aromatase Inhibitor-Associated Arthralgia
Chemotherapy-Induced Peripheral Neuropathy
Post-Mastectomy Pain Syndrome
Musculoskeletal Medicine
Osteoarthritis
Tendinopathy
Discogenic Pain
Facet Arthropathy
Compression Fracture
Scapular Dyskinesis
Adhesive Capsulitis
Labral Tear of Shoulder
Labral Tear of Hip Joint
Medial Epicondylitis
Lateral Epicondylitis
Trigger Finger
Patellofemoral Pain Syndrome
Plantar Fascitis
Phantom Limb Pain
Peripheral Nerve Injury
Nerve Root Compression
Radiculopathy
Ulnar Nerve Entrapment
Median Nerve Entrapment
Neuropathy, Peroneal Nerve
Sinus Tarsi Syndrome
Tarsal Tunnel Syndrome
Chronic Pain
Myofascial Pain
Fibromyalgia
Occipital Neuralgia
Injection of Peripheral Joint
Block, Nerve, Peripheral
Epidural Steroid Injections
Radiofrequency Ablation
Injection of Platelet Rich Plasma
Trigger Point Injections
Orthotic Evaluation
Electrical Muscle Stimulation Therapy
Board Certifications
Physical Medicine & Rehabilitation
Pain Medicine
Education
Fellowship in Interventional Pain Medicine, Columbia University Medical Center, 2016-2017
Educational Chief Resident in Physical Medicine & Rehabilitation, NewYork-Presbyterian Columbia and Cornell, 2015-2016
Residency in Physical Medicine & Rehabilitation, NewYork-Presbyterian Columbia and Cornell, 2013-2016
Internship in Internal Medicine, St. Luke's-Roosevelt Hospital Center, 2012-6/2013
Contact
Center for Comprehensive Spine Care240 E 59th Street2nd FloorNew York, NY 10022Phone (212) 746-1500Fax (212) 746-8303
NewYork-Presbyterian Brooklyn Medical Group38 6th Avenue3rd FloorBrooklyn, NY 11217Phone (718) 362-3225Fax (718) 622-1369