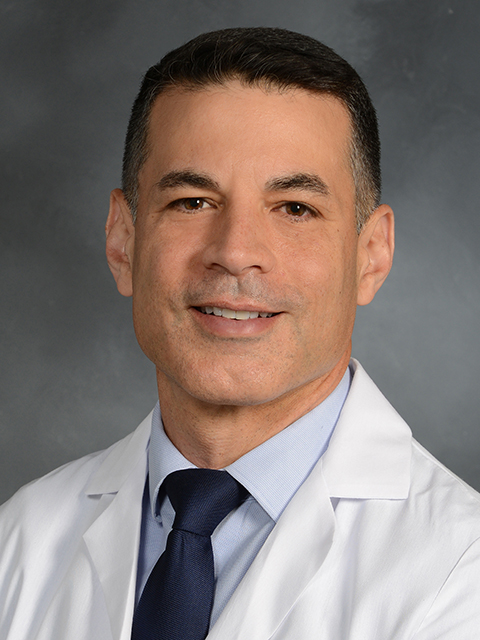 See profile video >
Nasser Ayyad, D.O., is an Assistant Professor of Clinical Rehabilitation Medicine at Weill Cornell Medical College who is board-certified in Physical Medicine and Rehabilitation and fellowship trained in Interventional Spine and Sports medicine. He specializes in treating a variety of pain conditions, including neck and back pain as well as musculoskeletal conditions such asmuscle, joint, and tendon pain. His philosophy centers on treating "the whole patient," not just the symptoms, by listening and evaluating patients to develop individualized treatment plans to facilitate recovery and prevent re-injury.
Dr. Ayyad is fluent in Spanish and his clinical interests include using exercise, physical therapy, and integrative medicine practices to treat musculoskeletal pain, as well as mind–body therapies in the perception of pain and healing. In addition, Dr. Ayyad performs various minimally invasive treatments that include fluoroscopic guided spine injections, ultrasound-guided joint injections, regenerative medicine, and neuromodulation including spinal cord stimulation and peripheral nerve stimulation.
Dr. Ayyad earned his medical degree at the University of North Texas Health Science Center. He completed a residency in Physical Medicine and Rehabilitation at the University of Texas Southwestern where he served as Chief Resident and earned the Arete Award for altruism. He then underwent advanced training in Interventional Spine and Sports Medicine through a North American Spine Society fellowship at Desert Spine and Sports Physicians in Phoenix, Arizona. Prior to joining Weill Cornell Medical College, Dr. Ayyad worked as an Attending physician in the University of Texas Southwestern Spine Center in Dallas, TX. Dr. Ayyad was included in D Magazine's Best Doctors list for 2020 and 2021.
Specialties
Back Pain
Musculoskeletal/Joint Pain
Clinical Expertise
Spinal Block
Exercise Physiology
Injection, Steroid, Spine
Spinal Arthritis
Shoulder Tendinitis
Shoulder Injury
Disorder of Shoulder Joint
Rotator Cuff Tear
Radiculopathy
Platelet Rich Plasma (PRP)
Lumbar Spinal Disorders
Lumbar Herniated Disc
Knee Injuries
Joint Pain
Hip Problem
Hand Disorder
Elbow Problem
Degenerative Spinal Disorder
Cervical Spinal Disorders
Prolapsed Cervical intervertebral Disc
Arthritis
Trigger Point Injections
Bursitis
Osteoarthritis
Tendonitis
Scoliosis
Foot and Ankle Injuries
Tear of Meniscus of Knee
Acute Pain Management
Non-Surgical Approach to Back Pain
Shoulder Problem
Golfer's Elbow
Hamstring Tendonitis/Injury
Iliotibial Band Syndrome
Patellar Tendinitis
Rotator Cuff injury
Runner's Knee
Carpal Tunnel Syndrome
Hand and Wrist Problems
Herniated Disc
Knee Problem
Sciatica
Shoulder Pain
Sports Injury
Cortisone Injection
Injury of Muscle
Musculoskeletal Disorder
Neck Pain, Acute
Soft Tissue Injury
Sprain
Strain
Tennis Elbow
Low Back Pain
Low Back and Neck Pain
Musculoskeletal Rehabilitation
Overuse Injuries (Athletes)
Disorder of Ligament
Adolescent Sports Injuries
Board Certifications
Physical Medicine and Rehabilitation
Pain Medicine
Education
D.O., University of North Texas Health Science Center Texas College of Osteopathic Medicine
M.M.S., University of North Texas Health Science Center Texas College of Osteopathic Medicine
Fellowship, Desert Spine and Sports Physicians
Residency, University of Texas Southwestern Medical Center
Appointment
Assistant Professor in Clinical Rehabilitation Medicine
Contact
Weill Cornell Medical Center525 East 68th StreetFloor 16New York, NY 10065Phone (212) 746-1500Fax (212) 746-8303
Center for Comprehensive Spine Care240 E 59th Street2nd FloorNew York, NY 10022Phone (212) 746-1500Fax (212) 746-8303