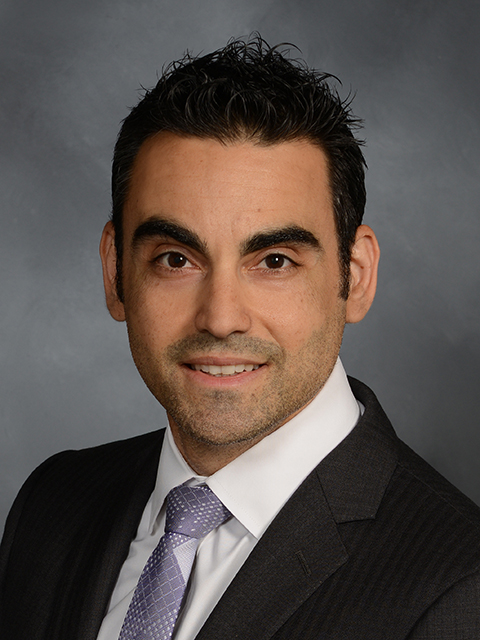 Dr. Michael Nicoletti is an Assistant Professor of Clinical Rehabilitation Medicine at Weill Cornell Medical Center. He is a musculoskeletal specialist board-certified in Physical Medicine and Rehabilitation. Dr. Nicoletti's specialty training is in Sports Medicine and Interventional Spine Care. His expertise includes non-operative management of a wide variety of spine and musculoskeletal conditions, as well as the rehabilitation and prevention of sports related injuries. Dr. Nicoletti's skill set includes both ultrasound guided joint, muscle and tendon injections as well as fluoroscopically guided spine injections.

Dr. Nicoletti graduated from the Medical Science program at Midwood High School in Brooklyn, NY, and then completed his Bachelors degree in Biology and Italian Studies from New York University. Dr. Nicoletti received his Doctor of Medicine degree from St. George's University School of Medicine. He completed an internship in Internal Medicine at Long Island College Hospital, and then went on to the State University of New York Downstate Medical Center for his residency in Physical Medicine and Rehabilitation, where he also served as Chief-Resident. Following residency, Dr. Nicoletti completed an intensive year of fellowship training at the Hospital for Special Surgery in Sports Medicine and Interventional Spine Care.

Throughout his training career Dr. Nicoletti has provided team coverage at both the high school and collegiate level for multiple sports including football, basketball, soccer, hockey, and track & field. He has also volunteered his time and medical expertise at numerous New York City endurance events, including the NYC Marathon and multiple Half-Marathon events. In addition to his professional career, Dr. Nicoletti is also an avid runner and triathlete himself, having competed in multiple endurance events including Iron distance and Half-Iron distance triathlons.

Dr. Nicoletti is an active member of numerous academic organizations including the American Academy of Physical Medicine and Rehabilitation, International Spine Intervention Society, North American Spine Society, and the American Medical Society for Sports Medicine. Dr. Nicoletti has been published in both physical medicine and rehabilitation medical journals as well as textbook chapters, and he continues to stay up-to-date with ongoing developments in his field in order to provide his patients with the highest level care.
Specialties
Back Pain
Musculoskeletal/Joint Pain
Clinical Expertise
Spinal Block
Exercise Physiology
Injection, Steroid, Spine
Shoulder Tendinitis
Shoulder Injury
Disorder of Shoulder Joint
Rotator Cuff Tear
Radiculopathy
Platelet Rich Plasma (PRP)
Lumbar Spinal Disorders
Lumbar Herniated Disc
Knee Injuries
Joint Pain
Hip Problem
Elbow Problem
Degenerative Spinal Disorder
Cervical Spinal Disorders
Prolapsed Cervical intervertebral Disc
Arthritis
Trigger Point Injections
Bursitis
Osteoarthritis
Tendonitis
Scoliosis
Tear of Meniscus of Knee
Acute Pain Management
Non-Surgical Approach to Back Pain
Shoulder Problem
Golfer's Elbow
Hamstring Tendonitis/Injury
Iliotibial Band Syndrome
Patellar Tendinitis
Rotator Cuff injury
Runner's Knee
Herniated Disc
Knee Problem
Sciatica
Shoulder Pain
Sports Injury
Cortisone Injection
Injury of Muscle
Musculoskeletal Disorder
Neck Pain, Acute
Soft Tissue Injury
Sprain
Strain
Tennis Elbow
Low Back Pain
Low Back and Neck Pain
Musculoskeletal Rehabilitation
Overuse Injuries (Athletes)
Disorder of Ligament
Adolescent Sports Injuries
Board Certifications
Physical Medicine and Rehabilitation
Education
Fellowship, Hospital for Special Surgery – Department of Physiatry, New York NY
Residency, State University of New York – Downstate Medical Center, Brooklyn, NY
M.D., St. George's University – School of Medicine, Grenada, West Indies
B.S., New York University – New York, NY
Appointment
Assistant Professor in Clinical Rehabilitation Medicine
Contact
NYP Lower Manhattan Hospital156 William Street12th FloorNew York, NY 10038Phone (212) 746-1500Fax (212) 746-8303
Center for Comprehensive Spine Care240 E 59th Street2nd FloorNew York, NY 10022Phone (212) 746-1500Fax (212) 746-8303
NYP Medical Group - Brooklyn (Prospect Heights)38 6th Avenue3rd FloorBrooklyn, NY 11217Phone (718) 362-3225Fax (718) 622-1369
The Center for Community Health at NewYork-Presbyterian Brooklyn Methodist Hospital515 6th Street4th FloorBrooklyn, NY 11215Phone (646) 697-0277