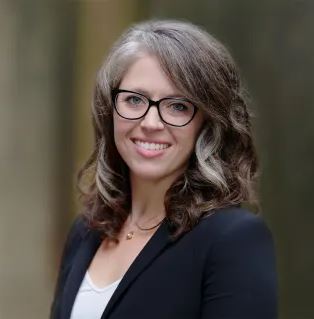 Dr. Kristen de Vries is an Assistant Attending Physician at New York-Presbyterian/Weill Cornell Medical Center and an Assistant Professor of Clinical Rehabilitation Medicine at Weill Cornell Medical College. Dr. de Vries specializes in the evaluation and treatment of cancer patients and survivors who have neurologic, musculoskeletal or psychological impairments related to cancer or cancer-directed treatments. She also provides care to women with pelvic floor dysfunction, particularly related to cancer and its treatment.
Dr. de Vries completed her undergraduate education at Loyola University Maryland with a double major in Biology and Spanish. After graduating, she worked in clinical research at Memorial Sloan Kettering Cancer Center and discovered her passion for cancer care. She attended medical school at New York Institute of Technology College of Osteopathic Medicine (NYIT-COM). During that time, she also obtained a master's degree in neuromusculoskeletal medicine from NYIT-COM. After graduating, she completed her internship in internal medicine at Jacobi Medical Center followed by a residency in physical medicine and rehabilitation at Montefiore Medical Center. Her time at Montefiore cultivated an interest in women's health, prompting her to pursue a fellowship opportunity in women's rehabilitation medicine. She then returned to Memorial Sloan Kettering to complete fellowship training in cancer rehabilitation medicine.
Through her training in cancer rehabilitation medicine, Dr. de Vries developed a deep understanding of and appreciation for the impacts of cancer and its treatment. Such impacts may include sensory deficits, gait abnormality, pain, weakness, lymphedema, radiation fibrosis, and cancer-related fatigue. She offers care at any point throughout the cancer care continuum. In addition, her experience in women's rehabilitation offers a unique perspective and understanding of musculoskeletal and neurologic dysfunction that can lead to pelvic floor dysfunction, including weakness, urinary or fecal incontinence, pelvic organ prolapse and/or sexual dysfunction.
Dr. de Vries strongly believes in treating the whole person, optimizing overall function and improving quality of life. She works with her patients to understand their unique history, perform a comprehensive examination, and thus develop an individualized treatment plan. This plan may involve a unique therapy prescription (supervised or at home), lifestyle modifications, bracing, medical equipment prescription, osteopathic manipulation, and/or medications.
Aside from individual patient care, Dr. de Vries is also invested in clinical research and teaching. As the number of cancer survivors increases, she hopes to continue expanding treatment options available to those with functional deficits related to cancer and/or cancer treatment. In addition, she aims to increase awareness of pelvic floor dysfunction, particularly as it relates to cancer, in an effort to improve patient access to care.
Specialties
Women's Health
Pelvic Floor Dysfunction
Cancer Rehabilitation
Clinical Expertise
Pelvic Floor Dysfunction
Pelvic Organ Prolapse
Bladder Dysfunction
Bowel Dysfunction
Pelvic Pain
Rehabilitation After Gynecologic Surgery
Musculoskeletal Problems in Pregnancy and Post-Partum
Cancer Rehabilitation
Musculoskeletal Rehabilitation
Neuropath (Motor, Sensory, Autonomic)
Bracing
Spine Disorders
Radiation Fibrosis
Post-Mastectomy Pain Syndrome
Lymphedema
Cancer-Related Fatigue
Arthritis
Bursitis
Tendonitis
Joint Disorders
Osteoporosis
Board Certifications
Physical Medicine and Rehabilitation
Education
M.S., New York Institute of Technology College of Osteopathic Medicine, Old Westbury, NY
D.O., New York Institute of Technology College of Osteopathic Medicine, Old Westbury, NY
Residency, Montefiore Medical Center/Albert Einstein College of Medicine, Bronx, NY
Fellowship. Montefiore Medical Center/Albert Einstein College of Medicine, Bronx, NY
Fellowship, Memorial Sloan Kettering Cancer Center, New York, NY
Appointment
Assistant Professor in Clinical Rehabilitation Medicine
Contact
Weill Cornell Medical Center525 East 68th StreetFloor 16New York, NY 10065Phone (212) 746-1500Fax (212) 746-8303