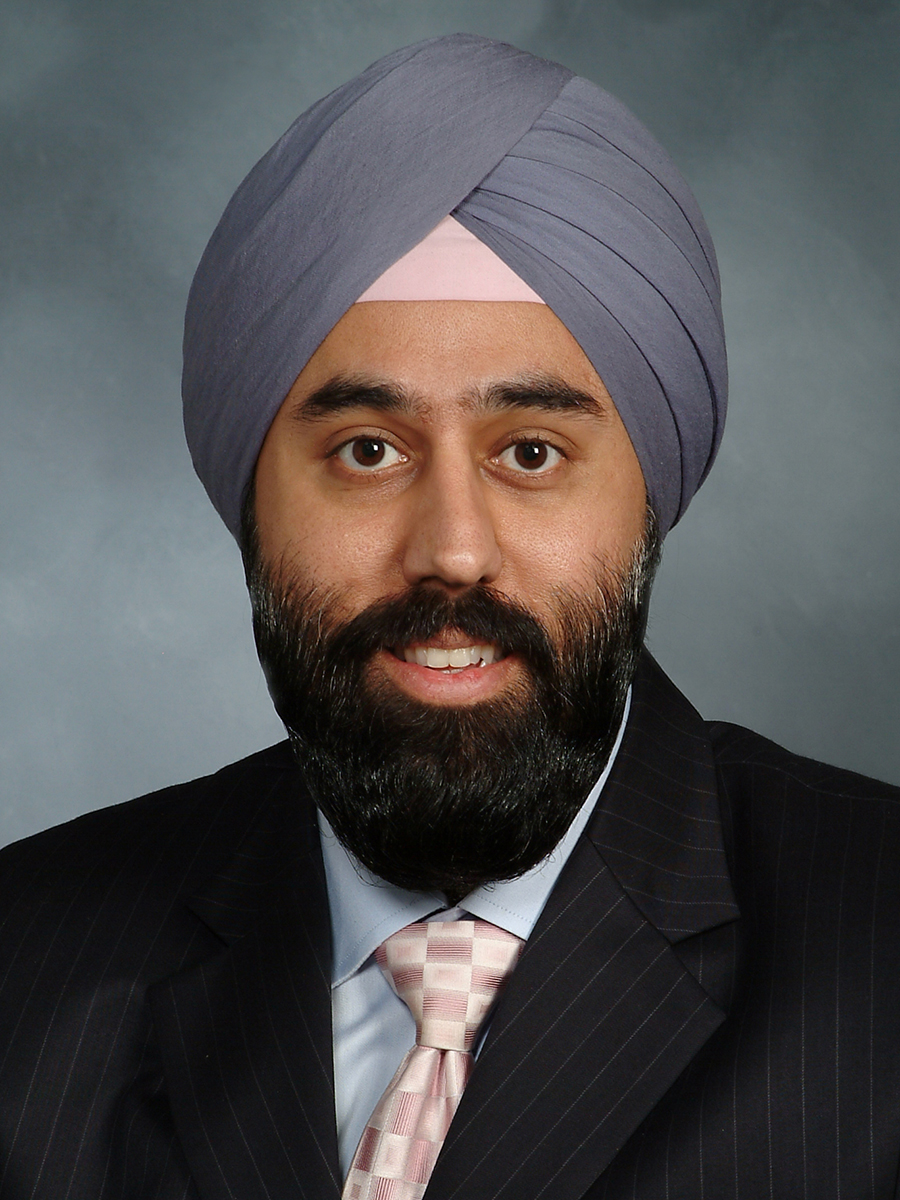 See profile video >
Dr. Jaspal Ricky Singh is the Vice-Chair of Strategy and Clinical Operations & Associate Professor within the Department of Rehabilitation Medicine. He also serves as the Medical Director of Outpatient Faculty Practice and Director of Interventional Spine in the Department of Rehabilitation Medicine and Co-Director of the Weill Cornell Center for Comprehensive Spine Care.
Dr. Singh is triple-board certified physician specializing in Physical Medicine and Rehabilitation, Sports Medicine and Pain Medicine. He earned his undergraduate degree at George Washington University majoring in biology and religious studies. He then attended the George Washington University School and Medicine and completed his residency at the University of Pennsylvania. Additionally, Dr. Singh went on to fulfill a fellowship in Interventional Pain and Sports Medicine at the University of Colorado – Denver.

Dr. Singh specializes in a multidisciplinary approach to treat pain by integrating physical therapy and interventional techniques in his care. Through the use of minimally invasive, fluoroscopic-guided spine procedures, peripheral nerve blocks, electrodiagnostic and musculoskeletal ultrasound, Dr. Singh individualizes his treatment plan with a focus on functional restoration.

He employs a comprehensive approach to the treatment of spinal disorders by providing pain management in an honest, kind, and compassionate manner. Dr. Singh's office is located at the Weill Cornell Medical College Center of NewYork-Presbyterian Hospital. Dr. Singh lives in New York City with his wife, Channi. His interests include family, golf, exercise and culinary arts.
Dr. Singh has been named the Willibald Nagler Clinical Scholar in Rehabilitation Medicine by Dean Laurie Glimcher. This scholarship recognizes Dr. Singh's work in patients with discogenic pain and epidural steroid injections.
Dr. Singh has been honored as a New York Super Doctor, for the past several years, which represents the top New York doctors in more than 30 specialties that have been fully licensed for more than 10 years.
Dr. Singh was also selected by Castel Connolly as a "
Top Doctor
" in the field of Pain Medicine. Top Doctors are nominated by their peers in an extensive survey process of thousands of American doctors. These Top Doctors' medical educations, training, hospital appointments, disciplinary histories - and much more - are screened by the Castle Connolly physician-led research team. Those doctors who are among the very best in their specialties and in their communities are selected for inclusion.
If you do not have Acrobat Reader you can download a free copy by following the link below:
Adobe Acrobat reader
Specialties
Back Pain
Musculoskeletal/Joint Pain
Clinical Expertise
Spinal Block
Exercise Physiology
Injection, Steroid, Spine
Spinal Arthritis
Shoulder Tendinitis
Shoulder Injury
Disorder of Shoulder Joint
Rotator Cuff Tear
Radiculopathy
Platelet Rich Plasma (PRP)
Lumbar Spinal Disorders
Lumbar Herniated Disc
Knee Injuries
Joint Pain
Hip Problem
Hand Disorder
Elbow Problem
Degenerative Spinal Disorder
Cervical Spinal Disorders
Prolapsed Cervical Intervertebral Disc
Arthritis
Trigger Point Injections
Bursitis
Osteoarthritis
Tendonitis
Scoliosis
Foot and Ankle Injuries
Tear of Meniscus of Knee
Acute Pain Management
Non-Surgical Approach to Back Pain
Shoulder Problem
Golfer's Elbow
Hamstring Tendonitis/Injury
Iliotibial Band Syndrome
Patellar Tendinitis
Rotator Cuff Injury
Runner's Knee
Carpal Tunnel Syndrome
Hand and Wrist Problems
Herniated Disc
Knee Problem
Sciatica
Shoulder Pain
Sports Injury
Cortisone Injection
Injury of Muscle
Musculoskeletal Disorder
Neck Pain, Acute
Soft Tissue Injury
Sprain
Strain
Tennis Elbow
Low Back Pain
Low Back and Neck Pain
Musculoskeletal Rehabilitation
Overuse Injuries (Athletes)
Disorder of Ligament
Adolescent Sports Injuries
Board Certifications
Physical Medicine and Rehabilitation
Sports Medicine
Pain Medicine
Education
B.A., George Washington University, 2002
M.D., George Washington University School of Medicine and Health Sciences, 2006
Appointment
Associate Professor of Rehabilitation Medicine Weill Cornell Medical College
Associate Attending Physiatrist, NewYork-Presbyterian Hospital
Wilibald Nagler Clinical Scholar in Rehabilitation Medicine, Weill Cornell Medical College
Adjunct Associate Clinical Professor of Rehabilitation Medicine, NewYork-Presbyterian/Weill Cornell
Willibald Nagler Clinical Scholar in Rehabilitation Medicine, Weill Cornell Medical College
Contact
Center for Comprehensive Spine Care240 E 59th Street2nd FloorNew York, NY 10022Phone (212) 746-1500Fax (212) 746-8303