Dr. Michael Sein, Department of Physical Medicine and Rehabilitation, Weill Cornell Medical College/NewYork-Presbyterian Hospital, visited on January 26 - 27 Baku for a Visiting Professorship in Rehabilitation Medicine before joining the Faculty at this year's Rehabilitation Medicine OMI Seminar in Salzburg.
Dr. Sein was invited by Rahima Gabulova, an OMI Alumni, who has attended 4 OMI Seminars as well as an Observership and who has been very active in organizing satellite symposia and visiting professorships in Baku (Cardiology 2009, Maternal & Infant Health 2014, and Diabetes 2015) as well as promoting evidence based medicine among her colleagues and students.
The Visiting Professorship took place at the Azerbaijan Medical University and included lectures on Back and Shoulder Pain, Epidural Steroid Injections and Interventional Management of Lumbar Facet Arthropathy as well as case presentations by local doctors and a round table discussion with international faculty and experts from the region.
During Dr. Sein's trip to Baku, he also visited the Rehabilitation Center at the Surgical Hospital where he conducted a workshop and demonstrated an examination of the shoulder and corticosteroid injections. The Visiting Professorship was very well received. A total of 56 doctors and residents attended the lectures and workshops, most of them from the Medical University Clinics in Baku.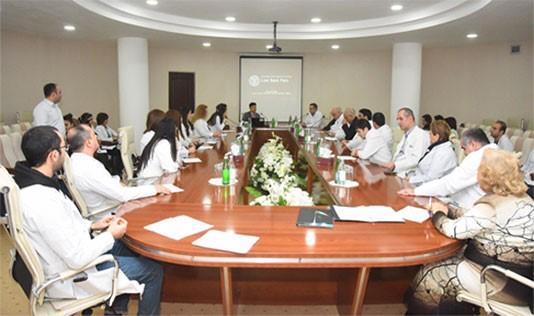 Dr. Michael Sein during the round table discussion on "Lower Back Pain"