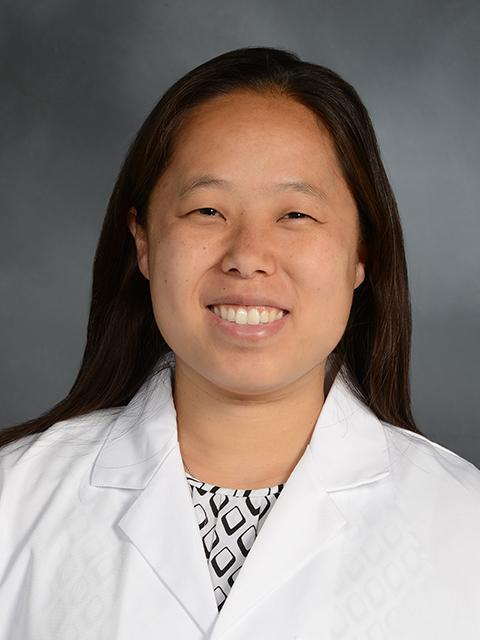 See profile video >
Dr. Caroline J Lee, CAQSM, is an Assistant Professor of Clinical Rehabilitation Medicine at Cornell University with board certifications in rehabilitation medicine and primary care sports medicine. She specializes in the management of acute and chronic sports injuries, concussions, injury prevention, and neurodiagnostic studies. She serves as a consultant for a number of soccer leagues and community sports organizations. She is a firm believer in the ethos "exercise is medicine" and loves treating patients of all ages and experience.
Dr. Lee completed her undergraduate education at Dartmouth College. She also completed a post-baccalaureate at Drexel University in Interdisciplinary Health Sciences and a Master's in Nutrition at Columbia University. She pursued a medical degree at St. George's University School of Medicine where she discovered her passion for non-operative sports medicine. Dr. Lee graduated cum laude and went on to complete her residency in Physical Medicine and Rehabilitation (PM&R) at SUNY Downstate Medical Center. During her training she provided sideline coverage for PSAL football, amateur mixed martial arts events, USA boxing, the New York City Marathon, and the NY Metropolitan Women's Soccer League.
Dr. Lee continued her training at United Health Services in Sports Medicine where she covered Binghamton University's NCAA Division 1 Men's and Women's basketball, soccer, lacrosse, wrestling, swimming, diving, cross country, and track. After her fellowship was complete, Dr. Lee moved back to the New York City area and has continued to cover local soccer leagues in Manhattan and Brooklyn as well as larger events like the New York City Marathon and Half Marathon.
As a non-operative sports medicine and physical medicine and rehabilitation specialist, Dr. Lee believes in a multi-disciplinary approach towards the treatment and prevention of injuries. She works collaboratively with each patient to help them to return to the activity or activities they love. Her practice is augmented by her training in ultrasound guided diagnostics and its use for interventional procedures. She is active in several professional societies such as the American Medical Society for Sports Medicine, Association of Academic Physiatrists, International Society of Physical and Rehabilitation Medicine, and the American Academy of Physical Medicine and Rehabilitation.
Specialties
Sports Medicine
Musculoskeletal/Joint Pain
Clinical Expertise
Acute Musculoskeletal Injuries
Adolescent Sports Injuries
Ankle Disorder
Ankle Injury
Arthritic Rehabilitation
Arthritis
Autologous Blood Injection
Bursitis
Carpal Tunnel Syndrome
Disorder of Ligament
Disorder of Shoulder Joint
Elbow Problem
Exercise Physiology
Foot and Ankle Injuries
Foot Pain
Fracture
Golfer's Elbow
Hamstring Tendonitis/Injury
Hand and Wrist Problems
Hand Disorder
Hip Problem
Iliotibial Band Syndrome
Injury of Muscle
Joint Pain
Kinetic Chain Approach
Knee Injuries
Knee Problem
Musculoskeletal Disorder
Musculoskeletal Rehabilitation
Musculoskeletal Ultrasound
Neuropathy
Occupational Injury
Osteoarthritis
Osteoporosis
Overuse Injuries (Athletes)
Patellar Tendinitis
Peripheral Neuropathy
Platelet Rich Plasma (PRP)
Prolapsed Cervical Intervertebral Disorder
Runner's Knee
Shin Splints
Shoulder Injury
Rotator Cuff Tear
Shoulder Pain
Shoulder Problem
Shoulder Tendinitis
Soft Tissue Injury
Sports Injury
Sprain
Strain
Tear of Meniscus of Knee
Tendonitis
Tennis Elbow
Trigger Finger
Rotator Cuff Injury
Trigger Finger Therapy
Trigger Point Injections
Ultrasound Guided Injection
Board Certifications
Physical Medicine and Rehabilitation Sports Medicine
Education
M.D., St. George's University School of Medicine
Fellowship, United Health Services
Residency, SUNY Downstate Medical Center
Internship, New York Presbyterian Brooklyn Methodist Hospital
Appointment
Assistant Professor in Clinical Rehabilitation Medicine
Contact
NYP Medical Group - Brooklyn (Flatlands)3417 Kings Highway3rd FloorBrooklyn, New York 11234Phone (646) 697-2030Fax (646) 967-2039