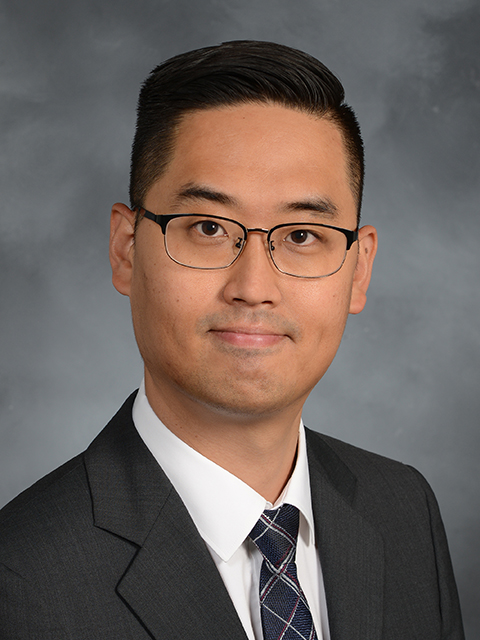 See profile video >
Dr. Ben Shin is an Assistant Professor of Clinical Rehabilitation Medicine at Weill Cornell Medical College. He specializes in Physical Medicine and Rehabilitation and Pain Medicine. His clinical interest focuses on providing patient-centered care using individualized multidisciplinary team approach to treat a variety of painful musculoskeletal and neurological conditions related to neck, back, joints, nerves, tendons, and muscles. Dr. Shin offers his patients a comprehensive set of potential procedures to alleviate pain using minimally invasive techniques including, but not limited to: fluoroscopically-guided spine/joint procedures, ultrasound-guided peripheral nerve blocks, regenerative medicine treatments, and neuromodulation.
Dr. Shin received his Bachelor of Arts degree from Baylor University, where he graduated magna cum laude. He then attended Baylor College of Medicine where he earned his medical degree. He completed his residency training in Physical Medicine and Rehabilitation at Johns Hopkins Hospital. He then completed his ACGME-accredited fellowship in Pain Medicine at UC San Diego Center for Pain Management.
Outside of work, Dr. Shin is a competitive soccer player and swimmer. As a lifelong athlete, he understands the importance of returning to an active lifestyle and strives to preserve and restore functional outcomes. Dr. Shin ultimately aims to reduce pain in his patients while improving their functional recovery, independence, and quality of life.
Dr. Shin is fluent in Korean.
Specialties
Back Pain
Musculoskeletal/Joint Pain
Clinical Expertise
Spinal Block
Exercise Physiology
Injection, Steroid, Spine
Spinal Arthritis
Shoulder Tendinitis
Shoulder Injury
Disorder of Shoulder Joint
Rotator Cuff Tear
Radiculopathy
Platelet Rich Plasma (PRP)
Lumbar Spinal Disorders
Lumbar Herniated Disc
Knee Injuries
Joint Pain
Hip Problem
Hand Disorder
Elbow Problem
Degenerative Spinal Disorder
Cervical Spinal Disorders
Prolapsed Cervical intervertebral Disc
Arthritis
Trigger Point Injections
Bursitis
Osteoarthritis
Tendonitis
Scoliosis
Foot and Ankle Injuries
Tear of Meniscus of Knee
Acute Pain Management
Non-Surgical Approach to Back Pain
Shoulder Problem
Golfer's Elbow
Hamstring Tendonitis/Injury
Iliotibial Band Syndrome
Patellar Tendinitis
Rotator Cuff injury
Runner's Knee
Carpal Tunnel Syndrome
Hand and Wrist Problems
Herniated Disc
Knee Problem
Sciatica
Shoulder Pain
Sports Injury
Cortisone Injection
Injury of Muscle
Musculoskeletal Disorder
Neck Pain, Acute
Soft Tissue Injury
Sprain
Strain
Tennis Elbow
Low Back Pain
Low Back and Neck Pain
Musculoskeletal Rehabilitation
Overuse Injuries (Athletes)
Disorder of Ligament
Adolescent Sports Injuries
Board Certifications
Physical Medicine and Rehabilitation
Pain Medicine
Education
M.D., Baylor College of Medicine
Residency, Johns Hopkins Medical Center
Fellowship, UC San Diego Center for Pain Management
Appointment
Assistant Professor in Clinical Rehabilitation Medicine
Contact
Weill Cornell Medical Center525 East 68th StreetFloor 16New York, NY 10065Phone (212) 746-1500Fax (212) 746-8303
NYP Lower Manhattan Hospital156 William Street12th FloorNew York, NY 10038Phone (212) 746-1500Fax (212) 746-8303
Center for Comprehensive Spine Care240 E 59th Street2nd FloorNew York, NY 10022Phone (212) 746-1500Fax (212) 746-8303