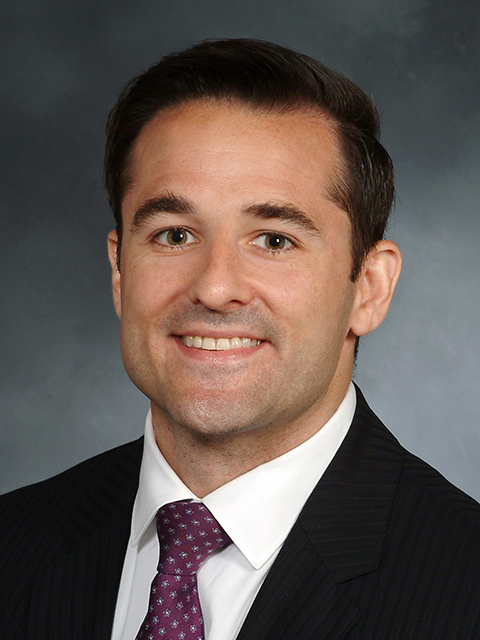 See profile video >
Dr. Michael Saulle is an Assistant Professor of Clinical Rehabilitation Medicine at Weill Cornell Medical College. He is a dual board certified physician in Sports Medicine and Physical Medicine & Rehabilitation. He specializes in non-operative Sports Medicine with a particular interest in minimally invasive image-guided procedures for the diagnosis and treatment of musculoskeletal injuries. He uses musculoskeletal ultrasound and fluoroscopy to provide real-time diagnosis and precise delivery of medications. His clinical interests also include regenerative treatments, such as platelet rich plasma injections. He treats a wide range of musculoskeletal, sports, and spine injuries, with a non-operative, patient-centered approach. His goal is to restore proper movement and optimize quality of life through a comprehensive treatment plan including personalized therapy prescriptions, nutrition, exercise, medications, injections and education.
Dr. Saulle received his undergraduate degree from Georgetown University, where he studied Health Sciences. He received his medical degree from Touro College of Osteopathic Medicine and completed his internship at North Shore LIJ Hospital in Internal Medicine. He subsequently completed his residency training program in Physical Medicine and Rehabilitation at New York-Presbyterian-Columbia and Cornell, where he served as Chief Resident. He went on to complete fellowship in Sports Medicine at New York-Presbyterian - Columbia and Cornell. He has cared for many recreational and professional athletes, and has been a team physician for high school, college and professional sports teams.
Dr. Saulle has participated in competitive sports for over twenty years and uses his personal experiences with injury to provide a unique comprehensive perspective on recovery and rehabilitation. He believes patient education is the cornerstone to successful treatment and ensures each patient understands his or her condition, treatment options and lifestyle modifications to optimize musculoskeletal health and well-being. With his added focus on education, he is also deeply involved in mentoring and training medical students, residents, and fellows at Weill Cornell and Columbia University Medical Center. Dr. Saulle hails from Westchester New York and enjoys a variety of sports, music, cooking and backpacking.
Specialties
Sports Medicine
Musculoskeletal/Joint Pain
Regenerative Medicine
Back/Spine Pain
Clinical Expertise
Acute Pain Management
Adolescent Sports Injuries
Ankle Disorder
Ankylosing Spondylitis
Arthritic Rehabilitation
Arthritis
Autologous Blood Injection
Bursitis
Carpal Tunnel Syndrome
Cervical Spinal Disorders
Cortisone Injection
Degenerative Spinal Disorder
Diet/Exercise
Disorder of Ligament
Disorder Shoulder Joint
Elbow Problem
EMG (Electromyography)
Epidural and Facet Injections
Exercise Physiology
Foot and Ankle Injuries
Foot Pain
Fluroscopic Guided Injections
Fracture
Golfer's Elbow
Hamstring Tendonitis/Injury
Hand and Wrist Problems
Hand Disorder
Herniated Disc
Hip Problem
Iliotibial Band Syndrome
Injection, Steroid, Spine
Injury of Muscle
Joint Pain
Kinetic Chain Approach
Knee Injuries
Knee Problem
Low Back and Neck Pain
Low Back Pain
Lumbar Herniated Disc
Lumbar Spinal Disorders
Medial Branch Neural Blocks Lumbar Spine
Musculoskeletal Disorder
Musculoskeletal Rehabilitation
Musculoskeletal Ultrasound
Neck Pain, Acute
Neuropathy
Nerve Blocks
Non-Surgical Approach to Back Pain
Occupational Injury
Osteoarthritis
Osteoporosis
Overuse Injuries (Athletes)
Patellar Tendinitis
Peripheral Neuropathy
Platelet Rich Plasma (PRP)
Prolapsed Cervical Intervertebral Disc
Radiculopathy
Radiofrequency Ablation - Lumbar Spine
Repetitive Stress Injury
Rotator Cuff Injury
Rotator Cuff Tear
Runner's Knee
Sacroiliac Joint Pain
Sciatica
Scoliosis
Shin Splints
Shoulder Injury
Shoulder Instability
Shoulder Pain
Shoulder Problem
Shoulder Tendinitis
Soft Tissue Injury
Spinal Arthritis
Spinal Block
Spinal Stenosis of Lumbar Region
Sports Injury
Sprain - Ligaments
Strain - Muscles
Stress Fractures
Tear of Meniscus of Knee
Tendonitis
Throwing Injuries
Trigger Finger
Trigger Finger Therapy
Trigger Point Injections
Ultrasound Guided Injection
Board Certifications
Physical Medicine and Rehabilitation
Sports Medicine
Education
B.S., Georgetown University

D.O., Touro College of Osteopathic Medicine

Internship: Northwell Health - Internal Medicine

Residency: NewYork-Presbyterian - University Hospitals of Columbia and Cornell - Physical Medicine and Rehabilitation

Fellowship: NewYork-Presbyterian - University Hospitals of Columbia and Cornell - Interventional Spine and Sports Medicine
Contact
Weill Cornell Medical Center525 East 68th StreetFloor 16New York, NY 10065Phone (212) 746-1500Fax (212) 746-8303
NYP Lower Manhattan Hospital156 William Street11th FloorNew York, NY 10038Phone (212) 746-1500Fax (212) 746-8303
Center for Comprehensive Spine Care240 E 59th Street2nd FloorNew York, NY 10022Phone (212) 746-1500Fax (212) 746-8303