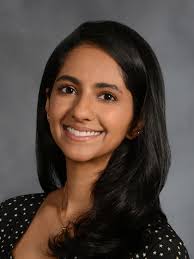 Dr. Skaria is dual board-certified in primary care sports medicine and pediatrics. She enjoys treating patients of all ages and activity levels with musculoskeletal or sports-related injuries and illnesses. She has interests in dance medicine, concussion management, and pediatric sports medicine. Dr. Skaria is trained in modern sports medicine therapies including ultrasound-guided injections, platelet-rich-plasma (PRP) injections, and shockwave therapy. Her goal is to work with her patients to come up with an individualized treatment plan that will allow for a return to activity as soon as possible.
Dr. Skaria is originally from South Texas. She received her B.A. from Harvard University and her M.D. from the University of Texas Health Science Center. She moved to New York City in 2015 for her residency training at New York Presbyterian - Weill Cornell Medical Center in pediatrics. She then completed a fellowship in primary care sports medicine at NYU Langone Medical Center, in which she treated musculoskeletal injuries and sports-related illnesses in both adults and children.
During her fellowship, she served as the team physician for NYU Hockey, Yeshiva University Athletics, and the East Harlem Pride football team. She worked closely with dancers from various performing arts institutes in New York City. She also provided medical care for collegiate athletes at LIU Brooklyn and NYU, and she covered mass participation events including the New York City marathon. She is a member of the American Medical Society for Sports Medicine and the American Academy of Pediatrics.
Specialties
Pediatric Sports Medicine
Musculoskeletal/Joint Pain
Regenerative Medicine
Clinical Expertise
Acute Pain Management
Adolescent Sports Injuries
Ankle Disorder
Ankle Injury
Apophysitis
Arthritic Rehabilitation
Arthritis
Autologous Blood Injection
Bursitis
Carpal Tunnel Syndrome
Cartilage Injuries
Chronic Exertional Compartment Syndrome
Concussion Assessment
Concussion Management
Cortisone Shots
Dancer Injury
Diet/Exercise
Disorder of Ligament
Disorder of Shoulder Joint
Elbow Problem
Exercise Physiology
Finger Injury
Foot Pain
Foot and Ankle Injuries
Fracture
Golfer's Elbow
Hamstring Tendonitis/Injury
Hand Disorder
Hand and Wrist Problems
Heat Illness
Herniated Disc
Hip Pain
Hip Problem
Iliotibial Band Syndrome
Injury of Muscle
Joint Aspiration
Joint Injections
Joint Pain
Knee Problem
Ligament Injuries
Little Leaguer's Elbow
Little Leaguer's Shoulder
Low Back Pain
Minor Fractures/Avulsions
Musculoskeletal Disorder
Musculoskeletal Pain
Musculoskeletal Rehabilitation
Musculoskeletal Ultrasound
Neck Pain
Neuropathy
Nutrition Issues in Athletes
Occupational Injury
Osgood Schlatter
Osteoarthritis
Osteoporosis
Overuse Injuries (Athletes)
Patellar Tendinitis
Patellofemoral Pain
Peripheral Neuropathy
Platelet Rich Plasma (PRP)
Pre-Participation Physicals
Prolapsed Cervical Intervertebral Disorder
Radiculopathy
Repetitive Stress Injury
Rotator Cuff Injury
Rotator Cuff Tear
Runner's Knee
Sciatica
Sever's Disease
Shin Splints
Shoulder Injury
Shoulder Pain
Shoulder Problem
Shoulder Tendinitis
Soft Tissue Injections
Soft Tissue Injury
Sports Injury
Sports Physicals
Sprain
Steroid Injection
Strain
Stress Fracture
Tear of Labrum of Hip
Tear of Meniscus of Knee
Tendinopathy
Tendonitis
Tennis Elbow
Throwing Injury
Toe Injury
Trigger Finger
Trigger Finger Therapy
Trigger Point Injections
Ultrasound Guided Injection
Viscosupplementation
Board Certifications
Sports Medicine
Pediatrics
Education
B.A., Harvard University
M.D., University of Texas Health Science Center
Residency, NewYork-Presbyterian/Weill Cornell Medicine
Fellowship, NYU Langone Medical Center
Contact
NYP Lower Manhattan Hospital156 William Street12th FloorNew York, NY 10038Phone (212) 746-1500Fax (212) 746-8303